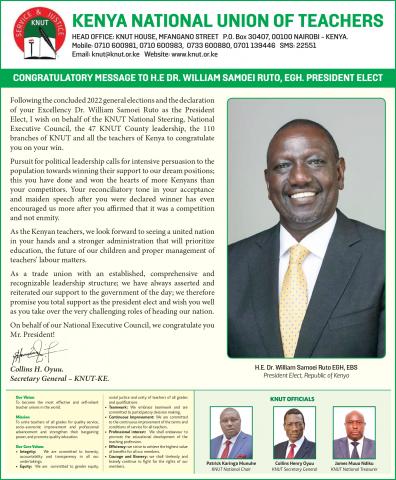 Following the concluded 2022 general elections and the declaration of your Excellency Dr. William Samoei Ruto as the President Elect, I wish on behalf of the KNUT National Steering, National Executive Council, the 47 KNUT County leadership, the 110 branches of KNUT and all the teachers of Kenya to congratulate you on your win.

Pursuit for political leadership calls for intensive persuasion to the population towards winning their support to our dream positions; this you have done and won the hearts of more Kenyans than your competitors. Your reconciliatory tone in your acceptance and maiden speech after you were declared winner has even encouraged us more after you affirmed that it was a competition and not enmity.

As the Kenyan teachers, we look forward to seeing a united nation in your hands and a stronger administration that will prioritize education, the future of our children and proper management of teachers' labour matters. As a trade union with an established, comprehensive and recognizable leadership structure; we have always asserted and reiterated our support to the government of the day; we therefore promise you total support as the president elect and wish you well as you take over the very challenging roles of heading our nation.

On behalf of our National Executive Council, we congratulate you Mr. President!