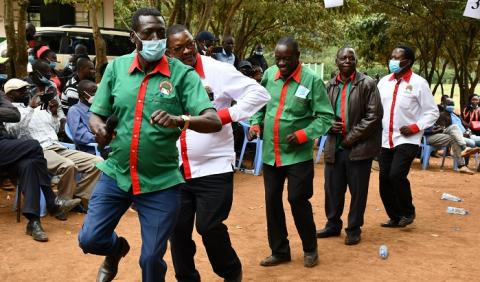 Former Kenya National Union of Teachers (KNUT) Chairman Collins Oyuu has been elected to replace Wilson Sossion as Secreatry General.
Oyuu was elected the new Secretary General on Saturday, June 26 taking over from Wilson Sossion who resigned on Friday.
Oyuu becomes the seventh KNUT Secretary General and will hold the seat for the next five years.
Oyuu was the only candidate vying for the influential position held by Sossion for nearly eight years.
The unionist were voting for the positions of Chairperson, Treasurer and Deputy Secretary General having a single candidate eyeing each of the seat.
In the election, Hesbon Otieno was elected (Deputy Secretary-General), Patrick Kariga (Chairperson), James Ndiku (National Treasurer) and Hussein Ali Abdi (Deputy National Treasurer), who were all elected to the respective positions unopposed.
An emotional Sossion, reminiscesed the time he joined KNUT while teaching at Tenwek Boys High School in Bomet County.
"I want to thank those men and women in Bomet who picked me from a classroom at Tenwek High School. I will say thanks to my students at Tenwek High School who made me who I am today. One thing you didn't know, I was a smart teacher. The highest number of As was from my subject," he recounted.
"I have today decided that in the interest of KNUT continuity, its membership and myself I hereby today the 25th day of June 2021, bow out of KNUT leadership honourably.
"I shall remain loyal to KNUT and I will always be available to advise and support the leadership of the union. I trust that the government of Kenya as I exit will find it necessary to allow union dues to flow to KNUT again," Sossion said in a statement at a press conference.
While announcing his resignation from the teachers' union, the nominated Member of Parliament, however, thanked the body insisting that teachers have been going through trouble as the government watches.
"I would wish to restate that KNUT members deserve credit for the restrain and sobriety they have shown in the face of open provocation and frustration by the government.